The Vantage 500 Series includes the same specifications as the 400 Series, but with AlNiCo pickups and push/pull coil tap knobs.
518BFT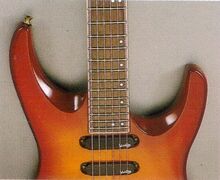 Body:
Contoured, solid Alder body w/ arched top
Spoon cut (Double)
Angled heel
Belly carve
Neck:
Bolt-on Rock Maple neck with scarf joint
Rosewood fretboard with dot inlays
Inlays offset after 9th fret
Reverse headstock (1989-1990)
Vantage headstock (1991-1995)
Silk-screened Vantage logo
Gibson style nut
24 frets
25.5" scale
Electronics:
Two AlNiCo single coils, one humbucker
Molded plastic pickup covers
3 on/off mini-switches
1 Vol, 2 Tone (Push/Pull Coil Tap)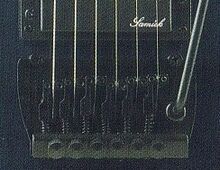 Hardware:
Black hardware (B)
Schaller style tuners
Triangular truss rod cover (1989-1990)
Wide fish shaped truss rod cover (1991-1995)
Metal knobs
"KKT-1" Licensed Floyd Rose 2-point tremolo (FT)
Locking nut (FT)
Finishes:
Black Fishnet (BFN)
Black Crackle on White body (CKBW)
Ad blocker interference detected!
Wikia is a free-to-use site that makes money from advertising. We have a modified experience for viewers using ad blockers

Wikia is not accessible if you've made further modifications. Remove the custom ad blocker rule(s) and the page will load as expected.