The Coyote was originally designed by famed luthier Mark Erlewine for guitarist Billy Gibbons of ZZ Top. The story goes that Mark agreed to let Hondo build it without telling Billy, and so his name was not put on it or used in marketing. There are persistent rumors that they were made by Tokai, but these are ENTIRELY FALSE. Disproven by examples with "Made in Korea" stickers and Samick's Baseball QC sticker still intact. However, it does say something for the quality of what Samick was putting out at the time for that confusion to persist.
CYT-1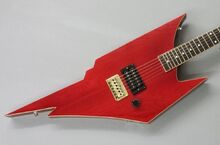 Body:
Solid 3-pc Korina body
Belly carve
Neck:
Set-in Maple neck
Rosewood fretboard with dot inlays
Silkscreened headstock logo over color-matched headstock
22 frets
25.5" scale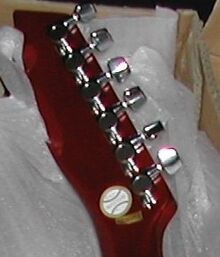 Binding:
Bound body (front and back), neck and headstock
Fret edge binding
Electronics
One Jin-Ah DiMarzio style humbucker
1 Master Volume
Hardware:
Chrome hardware
Truss rod cover with Sunrise logo silkscreen
Black "notched" speed knob
Vintage-style, 4 point hardtail bridge (Gold finish)
Finishes:
Ad blocker interference detected!
Wikia is a free-to-use site that makes money from advertising. We have a modified experience for viewers using ad blockers

Wikia is not accessible if you've made further modifications. Remove the custom ad blocker rule(s) and the page will load as expected.