The H-1020 was Hondo's high-end, Japanese-made Gibson "The Paul" copy. Part of the Professional Series, they were made by Matsumoku.
They also offered a Korean-made version, the Deluxe Series H-732.
H-1020

HD-1020 includes DiMarzio humbuckers.
Body:
Solid Mahogany single-cutaway body
Arm contour
Belly carve
Neck:
Bolt-on Mahogany neck (sometimes three-piece Maple)
Rosewood fretboard with dot inlays (+ 1st fret inlay)
Color-matched Deluxe headstock
Silk-screened Script logo
22 frets
24 9/16" scale
Electronics:
Two MMK 45 ceramic humbuckers (11.8K)
Optional DiMarzio K-10s
3-way switch
2 Vol, 2 Tone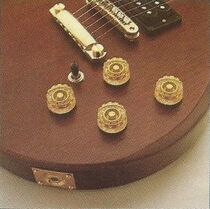 Hardware:
Gold hardware
Brass nut
Enclosed, lubricated die-cast tuners
Gold "notched" speed knobs
Headstock-matching truss rod cover with "Professional" silkscreen
Tune-O-Matic bridge and stopbar tailpiece
Finishes:
Black
Walnut
Satin Walnut
Antique Brown Violin Sunburst
Rich Brown Tobacco Sunburst
Also Branded as:
H-1021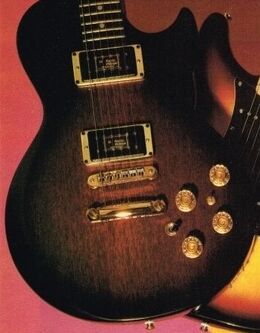 HD-1021 includes DiMarzio humbuckers.
Body:
Solid Mahogany single-cutaway body
Arm contour
Belly carve
Neck:
Set-in Mahogany neck (sometimes three-piece Maple)
Rosewood fretboard with dot inlays (+ 1st fret inlay)
Color-matched Deluxe headstock
Silk-screened Script logo
Silk-screened Sunrise logo
22 frets
24 9/16" scale
Electronics:
Two MMK 45 ceramic humbuckers (11.8K)
Optional DiMarzio K-10s
3-way switch
Coil tap mini-switch
2 Vol, 2 Tone
Hardware:
Gold hardware
Brass nut
Grover-style tuner buttons
Gold "notched" speed knobs
Headstock-matching truss rod cover w/ "Professional" silkscreen
Gold plated headstock-matching truss rod cover w/ engraved Sunrise logo
Tune-O-Matic bridge and stopbar tailpiece
Finishes:
Rich Brown Tobacco Sunburst
Gold Sunburst
HP-1025 (The Nomad 3X)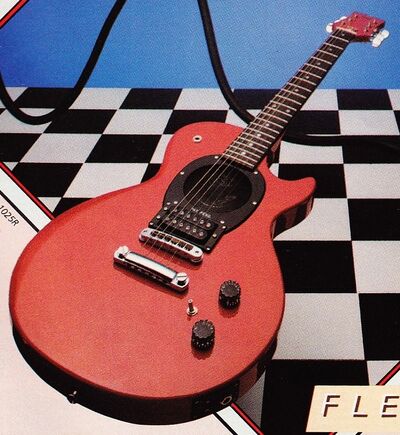 Body:
Solid wood single-cutaway body
Arm contour
Belly carve
Neck:
Electronics:
One MMK 45 ceramic humbucker (11.8K)
Built-in amplification speaker
LED indicator on/off mini switch for speaker
AC, DC and 12 volt output jacks (AC & DC can be used simultaneously for overdrive)
Headphone jack
1 Vol, 1 Tone
Hardware:
Chrome hardware
Schaller-style tuner buttons
Gold plated, headstock-matching truss rod cover
Black "notched" speed knobs
Tune-O-Matic bridge with brass saddles and stopbar tailpiece
Finishes: