The H-748 was Hondo's top of the line Korean-made Gibson Les Paul copy. However, they are actually something of a copy of the Matsumoku-made Aria Pro II LS-600 (which was a copy of a late 1970s Gibson Les Paul) and, less so, the Tokai LS-60/LS-80, because they feature some similar specifications, and it is known that Samick's engineers were tutored by engineers at Matsumoku and Tokai (not to mention that many Hondo models were direct copies of Matsumoku models).
This would be the first attempt of any Korean manufacturer to build high-end instruments. These guitars introduced features like fret-edge binding, circuit board electronics, high-quality Indian Rosewood fretboards, highly flamed Maple veneers and solid wood bodies, as well as other "vintage accurate" specifications. They also featured very thin finishes, a technique learned from the aforementioned Japanese manufacturers, believed to increase resonance/sustain.
The H-748 was introduced in 1982 as part of the Deluxe Series. By 1983, it had become part of the Deluxe Series Mark II, and in it's last year of production, 1985, most - if not all - were part of the Revival Series.
Generally speaking, earlier models tended to have wide fretboard inlays while later models' were more narrow (however, this is not a definitive rule). They are also not uncommonly mis-aligned, suggesting the inlay work was done by hand. Also, the heel was larger on early models and in the first year of production, construction consisted of a laminated top bent over a mostly solid body with some open chambers.
A "Lifton" style hardshell case was offered as an option over the standard chipboard case.
Made in Incheon, Korea by Samick.
Related:
Samick EG-1748
Marathon MG
Features
1982-1985
$359.95 MSRP (1983)
$374.95 MSRP (1984)
$399.95 MSRP (TT, 1984-1985)
$240 Street Price (TT, 1985 Christmas Sale)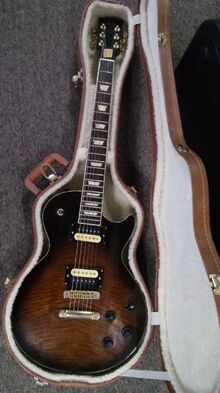 Body:
Solid Nato body with laminated "bent" top (1982)
Solid Nato body with 2mm arched Maple cap
"Pancake" construction
"Tiger Tail" flame Maple 2mm cap (CH, BG & sunburst finishes)
Neck:
Set-in Nato neck
Medium/Transitional tenon
Indian Rosewood fretboard with Pearloid trapezoid inlays
Stacked headstock joint
Silk-screened Sunrise logo
Silk-screened Deluxe Series logo (1982)
22 frets
24.75" scale
Binding:
Single-ply body (front) and neck
Electronics:
Two chrome covered X-14 humbuckers
Two zebra-style X-14 humbuckers (CS, TT)
3-way switch
2 Vol, 2 Tone (mounted on circuit board)
Hardware:
Chrome hardware
Gold hardware (TT)
Enclosed tuning keys w/ Keystone style buttons
14:1 ratio Grover Rotomatic tuning keys (TT & Revival models)
Bell shaped truss rod cover (1982)
Deluxe headstock shaped truss rod cover
Silk-screened Deluxe Series logo on truss rod cover (1983-1984)
Raised pickguard
Cream Bell knobs
Black Bell knobs (TT)
Finishes:
Black (B)
Cream (CR)
Translucent Cherry (CH)
Translucent Burgundy (BG)
Red Sunburst (RS)
Cherry Sunburst (CS)
Golden Sunburst (GS)
Honey Sunburst w/ Cherry or Walnut back (HS)
Burgundy Sunburst w/ Black or Burgundy back (BGS)
Tobacco Tint Sunburst w/ Black or Walnut back (TT)
Also branded as:
Mako TL-56
Samick EG-1748
Schafer EG-1748
Ad blocker interference detected!
Wikia is a free-to-use site that makes money from advertising. We have a modified experience for viewers using ad blockers

Wikia is not accessible if you've made further modifications. Remove the custom ad blocker rule(s) and the page will load as expected.