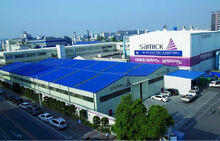 SPG Musical Instruments Co. was created in February 2003 by workers from Samick's Incheon, South Korea factory (similar to the story of Heritage Guitar Co.; created by former employees at Gibson's Kalamazoo, Michigan plant). It all started way back in 1992 when Samick built a factory in Indonesia because of the increasing wages in Korea. By the new millennium, workers were starting to unionize as well, and the two big guitar manufacturers in Korea (Samick and Cort) fought these efforts, particularly Cort (who was involved in a controversy over working conditions, union busting and shutting down their Korean factory without any notice to workers[1]). By 2006, Samick ended production in Korea and switched all production to Indonesia. Knowing this beforehand, a group of workers proactively got together and bought the factory to continue building their own guitars.[2] Fortunately, some brands who had previously contracted out to Samick recognized that the quality work was coming from that factory, and continued to contract out to SPG instead of Samick.
Brands
Samick Signature Series (2002-2006)
Comins
Ad blocker interference detected!
Wikia is a free-to-use site that makes money from advertising. We have a modified experience for viewers using ad blockers

Wikia is not accessible if you've made further modifications. Remove the custom ad blocker rule(s) and the page will load as expected.