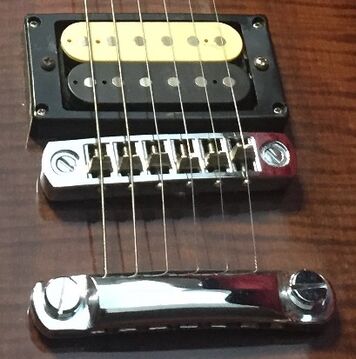 The Wide Tune-O-Matic is one of the easiest ways to spot a
Samick
-built guitar.
Introduced in 1982, this replaced the skinnier TOM-style bridge found on '70s Hondos, which was prone to collapse over time. The new design was not only stronger, but offered more intonation range. It was used widely on Hondos and Samicks until around 1988, when it was diverted more to contract builds and used until as late as 2003!
Important note: This bridge is not a standard width, and is therefore hard or impossible to find a replacement for. It measures 71.5mm post-to-post.
Similar bridges
While similar to the wide TOM-style bridge used on Ibanez Artist models, theirs is perfectly rectangular, while Samick's has convex ends.
Matsumoku sometimes used a similar bridge, which, considering their relationship, may have influenced the design of Samick's. However, Matsumoku's does not feature a recessed surface around the posts.
Ad blocker interference detected!
Wikia is a free-to-use site that makes money from advertising. We have a modified experience for viewers using ad blockers

Wikia is not accessible if you've made further modifications. Remove the custom ad blocker rule(s) and the page will load as expected.